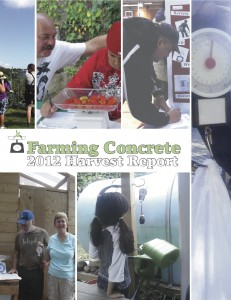 Farming Concrete is proud to release our third and final NYC Harvest Report. While this phase of the project is over, the project will continue to live on in the hands of gardeners and researchers here in NYC and beyond.
Excerpt from the report:
This project would not have been possible without the participation of the many gardeners who counted, weighed, and recorded their harvests with us. One of our main goals with this project was to pilot a way for community gardeners to collect and use their own data. While this project focused on measuring food production, similar strategies could be used to quantify food scraps going into the compost pile, rainwater diverted from the sewer system, or the number of people interacting with the garden. We see Farming Concrete as a jumping-off point for answering these types of inquiries in a way that is respectful to the people who are asking and answering these questions. In the tradition of all open source projects, our hope is that communities will be able to build upon what we've created–both software and methodology–to achieve their own goals.
Download a copy of the report here. For more reading about the project and its methods, read this paper we published last year in Cities and the Environment. Reports from 2011 and 2010 are here.
If you are a gardener who participated in 2012 and would like to receive a copy of your garden's report, contact gardens (at) farmingconcrete (dot) org.