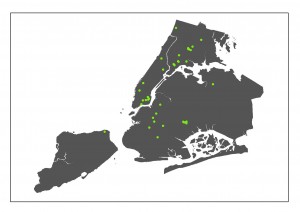 Farming Concrete's citywide Harvest Report is now available for download! See how much food participating gardens grew in 2011.
For 35 inventoried gardens growing on .94 acres, the estimated yield for crops we have data for was 13,000 pounds, worth $47,000.
We think that's a lot of food to grow on less than one acre. We're particularly impressed with the immense variety of crops that gardeners grew this year – over 100 different crops!
There are a few differences between 2011 and 2010. In 2011, we included herbs and fruit trees in the Crop Count, both of which had been previously excluded. This led to a lower average of plants per square foot, as fruit trees take up a lot more space than most vegetable crops. Furthermore, as many of these herbs and fruit trees were not weighed, their contribution to food production is not represented in our overall weight and monetary estimates.
We also included school gardens in the project, not just community gardens.  School gardeners were particularly excited about CropCount 2011, as it provided exciting activities to do in math and science class, as well as the opportunity to participate in something larger than just their own garden. Measuring the yields of school gardens can achieve a number of goals, including giving school gardeners a realistic expectation of the capacity of a small agricultural endeavor worked by small, often inexperienced hands. Knowing this information can also help school garden advocates ask for resources to build new school gardens or to increase programming.
As the project enters its third year, we aim to maximize participation and pursue robust data for the 2012 growing season. A third growing season will give us grounding to begin to estimate food production on a citywide level. Are you excited to know how much food NYC is growing in community and school gardens? Get your garden on the map and sign up for free materials here to help us find out!
For more background information on Farming Concrete, see our 2010 Harvest Report.