As part of the Festival of Ideas for the New City on Saturday, we designed a poster to display with Green My Bodega and Foodshed Market at a booth called Mapping Present and Imagined Food Systems. It was a fun opportunity to reflect on the 2010 season and to try to summarize the project for an uninitiated audience, but we thought you might enjoy it, too.
In the poster we compare the amount of land taken up by both (1) all of New York City's community gardens and (2) the amount of food-producing land that we mapped last year with Central Park. The rectangular, well-known park is a useful reference and it helps make clear how little land these food-producing beds take up. In an excerpt from the poster below we imagine these 1.7 acres of beds as the tiny brown box in the southeast corner of the park: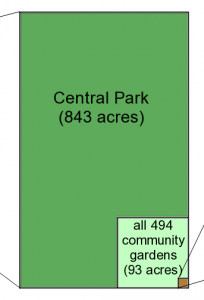 From there, we try to depict those 1200 beds of varying sizes and shapes squeezed together into a dense, square 1.7-acre farm (below), and we highlight the variety and quantity of plants found in a few of these beds. This small chunk of land is where the plants were grown that produced the results that we published in April: at least 88,000 pounds worth of food worth well over $200,000 came from 67 community gardens in the summer and fall of 2010.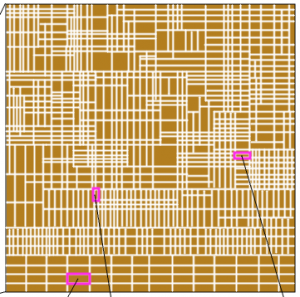 Considering that individual gardeners often have one raised bed, these 1200 beds were likely tended by around 1000 gardeners. Imagining 1000 people farming such a small space is amusing to us (well, at least it's not as crowded the 6 in the morning), but more than that we think it highlights the power of decentralization in the city and the amazing work community gardeners have been doing for decades.
Download the full poster in pdf or png and let us know what you think!
Community gardeners: help us make the collective farm bigger in 2011 by signing up to do Crop Count or Harvest Count!