Between hot temperatures, low rainfall, and extreme weather in the fall, last year stood out as an intense growing season for gardeners. Despite these obstacles, many participating gardeners recorded high yields from their intensively grown raised-bed garden plots. Each harvest logbook tells a story, and pooling them together brings us a greater narrative about food in NYC's community gardens.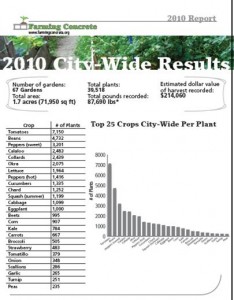 In 2010, 110 community gardeners weighed their harvests and crop inventory was conducted in 67 community gardens as part of Farming Concrete's efforts. We used the average yields from the gardeners who weighed their harvests to estimate that in those 67 gardens, 87,700 lbs of fresh produce was grown on just 1.7 acres, worth more than $200,000. Explore the results in more detail using our interactive webmap.
Sign up for Farming Concrete this year to find out how much food your garden grows!
Report and data analysis by Mara Gittleman and Eric Brelsford. Report layout and design by Kelli Jordan, with help from Joe Wirtheim. Many thanks to GreenThumb for generously providing research materials and to Brooklyn Community Foundation for generously funding printed materials. Last but not least, HUGE thank you to the gardeners, interns, and volunteers who made this project a success! Each participating community garden will be provided with a copy of their own individual garden report – please email gardens [at] farmingconcrete [dot] org to request more copies for your garden.