To say we made progress since we started two weeks ago is an understatement. Last week, we got a great review in The Wall Street Journal, delivered the first scale to Hollenback Community Garden in Brooklyn, and launched a Facebook page. This week, we took advantage of the newly opened Herb Garden at the Brooklyn Botanic Garden to study common edible plants (as well as some tropical foods, like bananas, tef, and rice!), followed by an incredible evening with Prospect Heights Community Farm master gardener Virginia Webster, who told us we were making history as we chased her around the garden asking what potato plants look like, and how to distinguish a summer squash plant from a winter squash.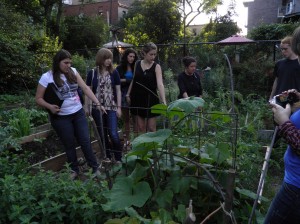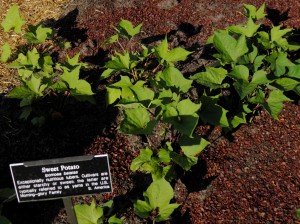 In the meantime, Farming Concrete's 20+ strong research team called, visited, and emailed nearly 100 gardens, signing up more than 20, with 1-11 gardeners in each garden committing to tracking their harvest for the 2010 growing season.  We drew maps, starting the tedious process of measuring square footage under edible production in NYC community gardens. If you have a few hours here and there and want to try your hand at mapping urban agriculture, we could certainly use your help – no experience necessary.
The rest of the scales arrived today, and will soon be delivered to our gardeners, many of whom are already harvesting radishes and greens. Many thanks to GrowNYC for letting us borrow some storage space, and to GreenThumb for helping with distribution! We're so excited to roll these out, and we look forward to sharing frequent updates about this year's community garden bounty.