Farming Concrete Video from Valerie & Schenkman on Vimeo.
Launched in 2009, Farming Concrete is an open, community-based research project started by gardeners to measure how much food is grown in New York City's community gardens and school gardens. Follow NYC's harvest using our interactive map and Harvest Reports.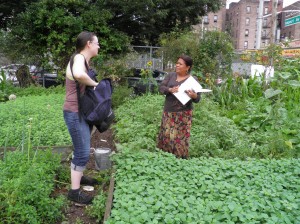 We provide free scales, record keeping materials, training, and reports to gardeners who record their harvests. Calculating the area, weight, and monetary value of food grown in community gardens will highlight these spaces as a critical land use in New York City and will help define the place of community gardening in the fabric of the urban food system.  The project looks at the yield of a small raised bed in NYC, determines how many of our gardens might actually be considered farms in the national agricultural census, and ensures that we pay homage to the hard work and dedication of community gardeners over the last several decades who have truly made the success of urban agriculture possible today.
The results of the study are open to the public and answer for each garden and for all gardens as a whole:
"We at ___ Community Garden grew ___ pounds of food in ____ square feet, which is worth approximately $___."
We are currently partnered with Design Trust for Public Space on their Five Borough Farm project, which "offers a roadmap to farmers and gardeners, City officials, and other stakeholders to understand and weigh the benefits of urban agriculture." We are collaborating on the expansion and development of barn.farmingconcrete.org, our data portal for gardeners, to include metrics from Five Borough Farm.
Farming Concrete is fiscally sponsored by the Open Space Institute, Inc. as part of their Citizen Action Program. OSI is a nonprofit public charity exempt from federal income tax under Sections 501(c)(3) and 509(a)(1) of the Internal Revenue Code. Contributions should be made payable to "Open Space Institute, Inc. / Farming Concrete" and are tax deductable to the extent permitted by law.