Farming Concrete Video from Valerie & Schenkman on Vimeo.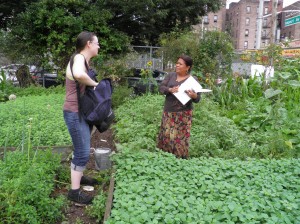 From 2010-2012, Farming Concrete provided free scales, record keeping materials, training, and reports to gardeners who record their harvests. Calculating the area, weight, and monetary value of food grown in community gardens highlighted these spaces as a critical land use in New York City and helped define the place of community gardening in the fabric of the urban food system.  The project looked at the yield of a small raised bed in NYC and paid homage to the hard work and dedication of community gardeners over the last several decades who have truly made the success of urban agriculture possible today.
The results of the study were open to the public and answered for each garden and for all gardens as a whole:
"We at ___ Community Garden grew ___ pounds of food in ____ square feet, which is worth approximately $___."
Follow NYC's harvest using our interactive map and Harvest Reports.